On Monday I promised AnnaLynn that we'd actually post something for
What's Cooking Wednesday
this week since we only shared one post in this series in January (and one post a series does not make!). What can I say, life happens. Anyway, scones seemed like a good recipe to try since they're one of my
2012 Kitchen Goals
. Why we've never made scones before is a question without an answer. No reason, really. We just haven't.
Wish we hadn't waited so long! Scones are easy to make and delicious to eat. Our recipe, adapted from Jean Pare's
Muffins & More
, makes twelve scones. Bon appetit!
Simple Cinnamon Scones
serves 12
2 c. whole wheat pastry flour
1/2 c. organic sugar
1 T. baking powder, aluminum free
1/2 t. sea salt
1/2 c. cold butter
1 egg, lightly beaten
1/3 - 1/2 c. milk
Topping (optional):
1 - 2 t. milk for brushing tops
Cinnamon sugar for sprinkling
Preheat oven to 425F and line a large baking sheet with parchment paper. Measure flour, sugar, baking powder, and salt into a large bowl.
Stir dry ingredients together then cut in butter until crumbly.
Add milk to egg; pour liquid mixture into dry ingredients. Stir with a fork to make a soft dough.
Ok, this is where it got tricky for us. The original recipe calls for 2/3 c. milk which made a really sticky dough -- we had to add almost a half cup of flour before being able to proceed. We don't have pictures because our hands were too sticky! See, we promised we'd share what worked and what didn't.
:)
Pat dough into two 6" rounds on prepared baking sheet. Brush the tops with a little milk; generously sprinkle with cinnamon sugar (we keep this on hand for toast -- mix 1/4 c. sugar with 1/2 t. cinnamon).
Score each top into 6 pie shaped wedges (
we forgot this step...oops!
). Bake for 15 minute or until risen and golden brown. Since we didn't score ours, they came out of the oven looking like giant snicker doodles. :)
The instructions say to split and butter them. We sliced ours with a knife and decided to try them without any added butter.
These really did turn out quite well even though we had to add additional flour. I was concerned they'd be tough, but they really weren't. We'll be baking these again this Saturday while the papa is home so he can enjoy them fresh from the oven, and when we do, we'll be using less milk (according to the measurements I gave in the recipe above). We'll also be more generous with the sprinkling on of the cinnamon sugar as we used it a little too sparingly this time. I'll update this post if the recipe needs it. In the meantime, please let us know if you give these a try or if you have any scone baking suggestions for us. Thanks!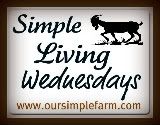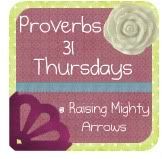 Also sharing with the
Pennywise Platter