"Clearly there is an appropriate kind of sheltering. When those who are opposed to homeschooling accuse me of sheltering my children, my reply is always, 'What are you going to accuse me of next, feeding and clothing them?'" ~R.C. Sproul Jr.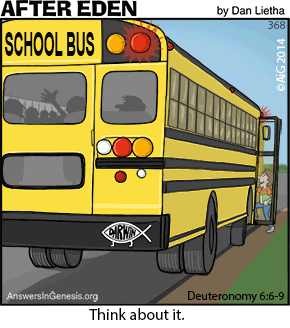 Exodus Books
Educational Materials,
New and Used Books, Family-Friendly Literature, and More!
Institute for Excellence in Writing
- The very best way to teach writing
Math U See
- We love this math program!
Memoria Press
- Latina Christiana I & II (great for vocabulary building)
Timberdoodle -
Curriculum, games, and more
Why home school...

Home education is so much more than academics - you know, math, reading, writing, spelling, etc. It is not simply an alternative way to get all of the required facts into the minds of our children, but rather it is the training of our children in the fear and admonition of the Lord. We do this because it is commanded of us by God in His word:

"Hear, O Israel: The LORD our God, the LORD is one! You shall love the LORD your God with all your heart, with all your soul, and with all your strength. And these words which I command you today shall be in your heart. You shall teach them diligently to your children, and shall talk of them when you sit in your house, when you walk by the way, when you lie down, and when you rise up." Deut. 6:4-7 (emphasis mine)

Yes, we do teach the academic subjects to our children (and rigorously at that!), but we teach them in the context of bringing glory to God. Why do we study math and science? We marvel as these subjects reveal to us that God is a Creator of order and structure rather than one of chaos. We learn how history is the revealing of HIS story and the working out of our redemption rather than a series of random events that are without meaning. We even get to label dates and years acknowledging this fact by using "A.D." and "B.C." rather than "B.C.E." and "C.E."

You might be shocked to learn that we also study evolution in our home school. Just this weekend our family attended a conference where we learned quite a bit about Darwin's theory and just how destructive it has been in promoting racism. A timely subject in our home as we are currently studying the Civil War/War of Northern Aggression.

We study government, and because we study it in the context of Biblical government, we learn that we are a free people - and that freedom includes the right and duty to be an educated people. Because we home school, we are free of our government's education system that would seek to undermine what we would teach as true and right.

This morning I was pleased to read a blog post written by our pastor in which he strongly encourages Christian education as opposed to a government education:

"Christian parents need to do two things immediately: first, learn what the Bible has to say about your responsibility to educate your children; second, put that learning into practice by taking charge of your children's training."

and...

"This is an issue where we have lost the battle—and that's assuming we should have been involved with government education in the first place as followers of Christ. We need to obey the Scriptures and accept the duty God has given us."

I encourage you to read the full post which you can find here.

More posts on home education:

On this day in history...
It's my job, not theirs!
Christian Heritage Conference 2010
Christian Heritage Conference 2011
Christian Heritage Conference 2012